Meet the world's fastest accelerating mower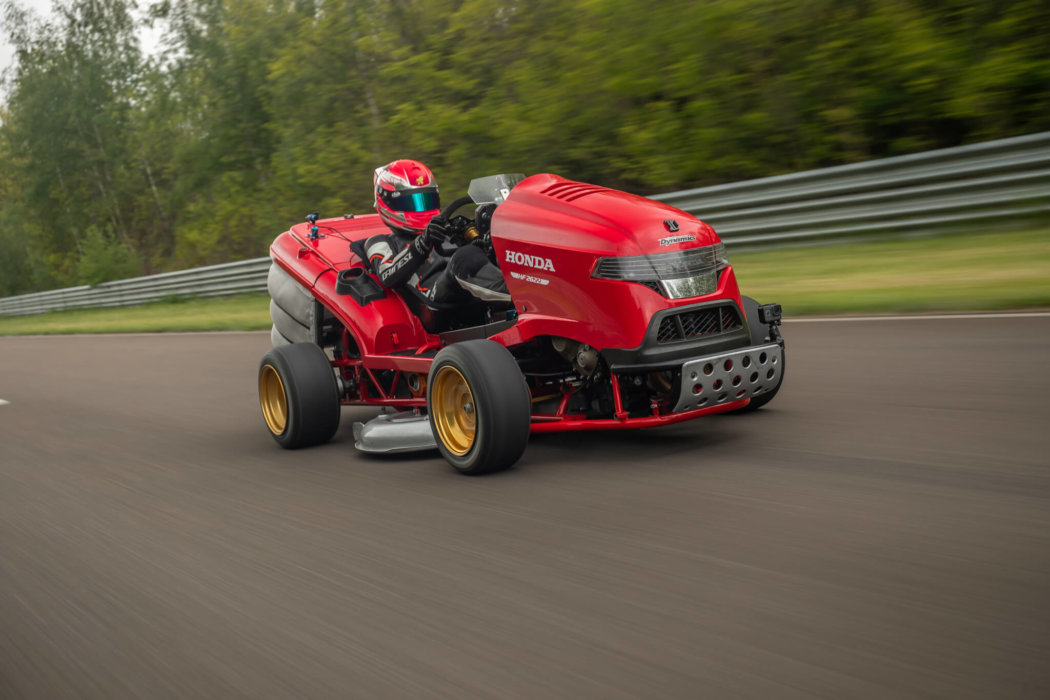 Honda's Mean Mower has set a new Guinness World Record for going from 0-100mph in just 6.29 seconds.
Sports & Parks
Honda's Mean Mower has re-entered the record books after setting a brand new Guinness World Records title for the Fastest Acceleration 0-100 mph for a Lawnmower.
The new record was set at the Dekra Lausitzring, near Dresden, Germany, on May 6, 2019. Under the watchful eye of a Guinness World Records adjudicator, Honda's all new Mean Mower V2 averaged 0-100 mph in just 6.29 seconds; driven by Jess Hawkins, experienced stunt driver, and kart and car racer.
As well as hitting such a blistering straight-line speed to set the new record, Mean Mower V2 also had to demonstrate that it could still do what it is actually designed for – to cut grass – which it does.
The ability to still cut grass is thanks to slight revisions to the cutter deck to house the chain driving the rear tyres and the two batteries required to power electric motors which spin carbon fibre blades to mow.
Under the regulations of Guinness World Records, the mower must also "intrinsically look like a lawnmower" – in this case the Honda HF 2622 lawn tractor– which it does by carrying over its front cowl, grass box, and body panels.
Unveiled in summer 2018, Mean Mower V2 set out to build on the success of the original Mean Mower, which became the world's fastest lawnmower on March 8, 2014 when it hit 116.87mph. But this time Honda and its British Touring Car Championship partner, Team Dynamics, took the development to a whole new level, using computer aided design, bespoke parts, advanced materials, and 3D printing.
The engine
At the heart of Mean Mower V2 lies its engine. This time a 999cc four-cylinder unit taken from Honda's high-performing CBR1000RR Fireblade SP motorcycle – producing 200bhp at 13,000rpm.
It packs almost double the power of the original Mean Mower, with a super-light frame, and engine dry weight of just 69.1kg, which overall results in a power-to-weight ratio in excess of that of a Bugatti Chiron.
The official acceleration figure was measured using a VBOX on-board recording device, which was fitted, set up, and verified by independent and accredited timers, Timing Solutions Limited.
Breaking the record
To meet the requirements of Guinness World Records, the mower had to record the same run, in both directions, within an hour – with the average acceleration of these two runs taken as the official time.
With an average of 6.29 seconds, Honda set the new Guinness World Records title for "The fastest acceleration 0-100 mph for a lawnmower (prototype)".
The team also took the opportunity while at the Lausiztring to put Mean Mower V2 through its paces on a longer run to see what it is really capable of, recording an incredible top speed of 150.99mph. The time was once again independently recorded by Timing Solutions Limited using the VBOX data.
"The original Mean Mower was an incredible machine; but this time we've taken it to a whole new level with version two. After taking the top speed record in 2014, we wanted to do something a little different by setting an all-new record for acceleration, and the result is fantastic. Team Dynamics have gone above and beyond in developing and building this real feat of engineering, and hats off to Jess for being brave enough to get behind the wheel.",  said Dave Hodgetts, managing director of Honda UK.
Learn more about the Mean Mower here and check out all of the action in the video below. All photos courtesy of Honda.
Mean Mower V2 key statistics
| | |
| --- | --- |
| Engine | Honda Fireblade SP in-line four cylinder (stock) |
| Size | 999cc |
| Power | 189+ bhp @ 13,000rpm |
| 0-60 | Sub 3 seconds |
| MPG | 35mpg |
| Optimum RPM | 13,000 |
| PTW ratio | 1000bhp/tonne (est.) |
| Torque | 116nm @ 11,000rpm |
| Body | Honda HF2622 Lawn Tractor |
| Chassis | T45 steel (custom-made) |
| Weight | 140kg (approx.) |
| Length | 2770mm |
| Wheelbase | 1380mm |
| Width | 1365mm |