Easy Petrol Post Driver now available from Geaney & O'Neill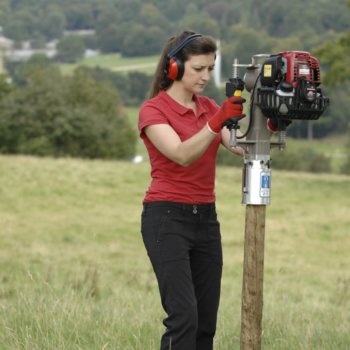 The Easy Petrol Post Driver combines the reliability and power of the Honda GX35T four-stroke engine with the comfort of cushioned spring handles to promote operator comfort and efficiency.
Landscape
The Easy Petrol Post Driver from Geaney & O'Neill is designed to knock any size stake, peg, or post into the ground, up to a four-inch diameter (subject to soil conditions), and is powered by a four-stroke Honda GX35T 1kW motor.
The ultra-reliable and compact Honda GX35T four-stroke engine creates a high-impact hammer action of 1,720 blows per minute , which will drive a post into the ground in a matter of seconds.
The post driver is ideal for inaccessible places, as it is light enough to put in the operators car at 15.3kg, allowing many hours of fatigue-free operation.
The operator is isolated from the hammering action via spring cushioned handles. The machine's internal components are manufactured from the highest-quality precision machined materials to give the longest tool-life possible.
The Easy Petrol Post Driver can drive up to 500 posts per litre of fuel, resulting in cheaper running costs. The ability to operate this machine in hard-to-reach areas, as well as for quick and emergency projects, can save the operator the costs of having to ship large expensive machinery to the site.
The machine comes with a one-year motor and assembly warranty, and Clipex attachments are available from Geaney & O'Neill to complete the machine.
Applications
Two, three, and four-inch adapters available.

Fencing – timber and angle iron posts.
Landscaping – tree stakes.
Nurseries – tree and plant support.
Vineyards – especially steep hillsides.
Farming – sheep and cattle fencing.
Construction – temporary fencing/shuttering/ground pinning.
Contractors – tent stakes/ground anchors/signage.
Festival/Fair organisers – signage/temporary fencing.
For more information and pricing, contact Geaney & O'Neill via email or call: +353 21 482-2465. Or check out their website here.