IPM Essen to bring together a world of horticulture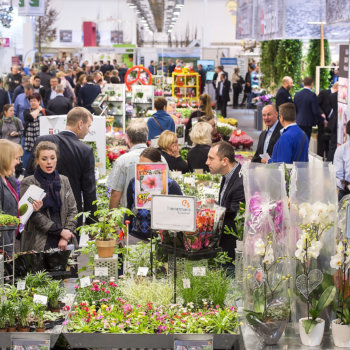 IPM Essen - one of Europe's leading horticulture events - will see producers from all over the world showcase their products and plants.
Horticulture
Twenty nations from all over the world will present their new plants and innovative product developments at IPM ESSEN in Messe Essen, from January 23 to 26.
From Great Britain to China, attendees will be provided with the opportunity to see what developments the horticultural world is making, and what trade opportunities are possible. Below is a list of what each country is planning to showcase.
Belgium
For the Belgian producers, IPM ESSEN is a tradition as the exhibitors from the neighbouring country have been guests in the fair halls in Essen since the first fair.
This year, 38 exhibitors will take part in the Belgian joint presentation which will be divided between Hall 2 (24 exhibitors), Hall 12 (nine exhibitors) and Hall 8 (five exhibitors).
Producers, not only of ornamental plants, laurels, azaleas, and rhododendrons, but also of hardy and perennial plants will present themselves on the booth in Hall 2. Companies which have specialised in young house plants, chrysanthemums, and garden plants will introduce themselves, too.
Hall 12 will focus on trees, forest and hedge plants, roses and ornamental bushes. Young rhododendrons, hardy plants as container goods with root balls as well as bare-root plants will be shown on the booth in Hall 8.
(Hall 2, Booths B25 and D30; Hall 12, Booth C27; Hall 8, Booth A30)
China
For the fourth time, Chinese exhibitors will present themselves on a joint booth and will show their newest products and developments to the international trade public at IPM. Not only green plants and cut flowers but also floristry products and seeds will be introduced. Moreover, it will be possible to see the newest generation of horticultural machines and tools as well as greenhouse accessories and LED lighting systems.
(Hall 8, Booths A52 and A53)
Denmark
Under the motto of "Let's Go Green – Together!" Denmark will be the partner country at the world's leading fair for horticulture this year. On the joint booth in Hall 14 and in the foyer of the Grugahalle, it will be possible to find around 50 suppliers which will present their entire spectrum of house and garden plants as well as new concepts and products there.
One particular highlight will be a Plant Lounge in which more than just inspiration will be in the air. At 5.30 p.m. on the first day of the fair, the Danes will invite exhibitors and visitors to the Happy Flower Hour.
(Hall 14 and foyer of the Grugahalle)
France
Twenty exhibitors from France will introduce their plant and product innovations on two joint booths. This year, the available range of exclusive shrubs, lilies of the valley and new camellia varieties from the French cultivation areas, will be extended by three new producers.
Attention will also focus on dwarf dahlias, lilies, new varieties of agapanthus and cannas, breath-taking chrysanthemums, Ice Crystal ficinia, Pink Showers trachelospermum, Sugar Sweet PBR clematis and the totally new INDIAKA cyclamen. Moreover, not only soil-free sorting and breeding bags but also peat-free substrates and turbofibres (raw materials) will be introduced for the first time.
(Galeria, Booths 42, 43, 44 and 47; Hall 10, Booth 11B11)
Great Britain
This year, too, the Commercial Horticultural Association (CHA) will once again be responsible for the British joint booth. There, more than 16 member companies will present their wide available range of new varieties and innovative technologies: no matter whether manufacturers of horticultural devices, high-power LED lamps or special fertilisers or breeders of roses and clematises – they will all show what Great Britain has to offer to the green sector worldwide.
(Hall 3, Booth 3B37; Hall 10, Booth 10D13)
India
Products made of coconut fibres will play the main role on the Indian joint booth. Under the flag of the Coir Board of India, a total of 26 companies will present the environmentally friendly material in various forms: as organic fertilisers, compost bags, pressed briquettes, or discs.
The pith of the coconut fibre demonstrably improves the soil and is increasingly being utilised as a fertiliser. As a soil-free growth promoter, the coconut fibres are an adequate substitute for peat.
(Hall 3, Booth 3A17; Hall 7, Booths 7B37 and 7C13)
Italy
The Italian exhibitors traditionally provide Mediterranean flair at IPM ESSEN. They will show nursery goods, herbs and ornamental plants typical of the country.
Moreover, the joint booth of ICE – Instituto Commercio Estero (the foreign trade agency of the Italian embassy) will present itself in Hall 7. Firms from the different regions of Italy will introduce themselves here. Attention will centre on plant producers from South Italy which, above all, will bring citrus trees with them to the Ruhr metropolis.
(Hall 7 and Hall 9)
Japan
The high school of bonsai art will be one of the central subjects of the Japanese joint booth. Four companies will be in situ; two of them will be local bonsai groups. "The Beauty of Tradition" will be the motto of their presentation. Not only classic bonsai but also garden trees bearing the macro bonsai designation will be introduced in order to make it possible to experience bonsai art for the garden, too.
(Hall 10, Booth B15)
Netherlands
Around 60 companies will participate in the joint booth in Hall 12 which is being organised by BIZZ Holland. Amongst other places, the exhibitors will come from Boskoop, Opheusden, Venlo, Zundert and other parts of the Netherlands. They will show the newest ornamental hedges, bushes, perennial plants, water plants and road trees.
(Hall 12, Booths 12A10, 12A20, 12A21, 12A40, 12A41, 12A55)
Poland
Eleven companies will come together on the Polish joint booth. They will show their wide variety of trees, bushes, perennial plants, climbing plants and fruit plants – cultivated both outdoors and in containers.
Young plants which have been produced in vitro – as well as in cultivation – will be offered. Precisely the country's transitional climate offers ideal growth conditions for a wide spectrum of these resistant, hardy growths. Polish plants are exported not only to numerous European states but also to the USA or Japan.
(Hall 9, Booths 9C30 and 9D30)
Portugal
Portugal will present itself at the world's leading fair for horticulture with a small but nice joint booth consisting of four plant producers. Viplant, Bayflor, Monterosa, and Colossus Plants will introduce their Mediterranean pot plants such as dipladenias, bougainvilleas, lavenders, and hibiscuses.
(Hall 9, Booth 9B24)
Spain
Twenty-eight companies from the Valencia region, Catalonia, Galicia, Andalusia, and the Canary Islands will present themselves on the Spanish joint booth in Hall 9.
The exhibitors organised in the FEPEX association have specialised in the production and export of ornamental plants. Thus, primarily ornamental plants and Mediterranean plants will be shown on around 950 square metres, including palm trees, oleanders, dipladenias, olive trees, hibiscuses, rose bushes, carnations, stephanotis species, allamandas as well as daisies and seasonal plants.
(Hall 9)
Sri Lanka
The Coconut Development Authority (CDA) will assume overall responsibility on the joint booth from Sri Lanka and will be represented there with six of its member companies. CDA was founded by the Sri Lankan government in order to develop and promote the coconut industry in its own country because CDA's declared objective is to support the suffering population.
CDA's tasks include the promotion of coconut products on international markets, quality control, the development of new processing technologies and much more. At this year's IPM ESSEN, the trade visitors will be able to obtain information about CDA's work and to enter into discussions with the producers directly in situ.
(Hall 7, Booths 7A13 and 7B12)
United States
Five companies from the south of the US will present their available ranges on this joint booth, including the world's largest producer of liriopes as well as a producer for bougainvilleas and ixoras. Furthermore, firms will introduce their initial plant materials and nurseries will show their newest products.
(Hall 2, Booth 2A31)
Further joint booths will come from Costa Rica (Hall 1), Guatemala, Hungary (Hall 10), the Netherlands (Royal Flora Holland: Hall 1) and Taiwan (Hall 1).
Tickets are still available for the show and are extremely reasonable. You can find a full list of ticket options and price breakdown here: https://www.ipm-essen.de/tickets/index-18.html